The NAFCC also provides professional training to its members that includes: first aid, cyber-security, and security training.
The club will soon be hosting a two-day Hostile Environment Training course taught by the International News Safety Institute.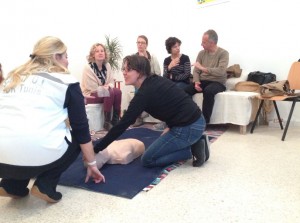 Read More
The club invites a prominent guest or expert for an off-the-record meeting every month. Since the NAFCC's first meeting in January 2014, guests have included:
 2014
François Gouyette, the French ambassador to Tunisia
Hamadi Jebali, former Tunisian prime minister
Wided Bouchamaoui, president of the Tunisian Union for Industry, Commerce and Handicrafts (UTICA)
Samir Dilou, member of Ennahda and former Human Rights and Transitional Justice Minister
Jacob Kolster, director North Africa at the African Development Bank
Beji Caid Essebsi, president of Nida Tounes
Antonio Nucifora, World Bank's lead economist for Tunisia
Chafik Sarsar, president of the Independent higher authority for elections
Michael Béchir Ayari, International Crisis Group's senior Tunisia analyst
2015
Amine Ghali, director of Kawakibi center for democratic transition
Hamish Cowell and Michael Aron, British ambassadors to Tunisia and Libya
Flavien Bourrat, researcher at IRSEM, defence expert
Mohsen Marzouk, advisor of the president Béji Caied Essebsi
Bob Rijkers, World Bank expert
Rafaa Tabib, Libya expert
Sergio Latouna, Researcher & consultant specialized in political islam & jihadist movements in the Maghreb, at Instituto de Seguridad Global.
Maxime Poulin, Security Analyst at DCAF
2016
Daniel Rubinstein, US ambassador to Tunisia
Bochra Belhaj Hmida, MP
Ziad Laadhari, minister of Industry and Trade
Yassine Brahim, president of Afek Tounes and former minister
Karim Ben Smail, Cérès Editions
Hichem Ben Ammar, founder of Djerba Doc Days
Mourad Mathari, Jazz à Carthage
Read More